02/13: Yours heart's desire
So far February has brought unexpected sunshine, a plethora of award shows, and that undeniable feeling of anticipation, or for some anxiety, over the most sacred of all Hallmark holidays–Valentine's Day.  Heck, there's even a movie about it.  And if you are to believe in all the hype Valentine's Day is "the" day to declare your love to your significant (or potentially significant) other with some grand gesture–be it a fabulous piece of bling, a romantic getaway, or night out on the town.  The latter usually involves procuring dinner reservations at an appropriately fancy or at least nice restaurant, which like all fine eateries in town feature some sort of "special" offering for the big event.
But is the "special" really that special? Or is it merely a fanciful attempt at being different?  There seems to be an collective compulsion on Valentine's Day, after all, to make a statement, to do something extraordinary for the one we love, which makes us more willing to venture into the culinary unknown.  By "unknown" I don't mean "Bizarre Foods" territory, just the esoteric–stuff that may sound cool and hip that we may or may actually enjoy eating.  A deconstructed lobster served five ways for two perhaps?
Marketing plays a big part in how we present a menu.  For instance, we give a dish a cheeky moniker to make it stand out.  I've called a dessert fondue for two "The Hot and Sticky."  It sold pretty well.  Clearly the clever play on words got people's attention, however I think the platter of fresh fruit, homemade marshmallows, cookies, profiteroles, and puff pastry along with hot fudge and salted caramel sauces closed the deal.
I go by the theory that the best stuff, be an entree or dessert, are the tried and true.  The classics never really go out of style.  Case in point, this year's Valentine's Day dessert special–Red Velvet Baked Alaska with Vanilla Bean Mascarpone Semifreddo and Dark Chocolate Sauce.  It has all the components of the classic dessert we remember, but with just a little something unusual–the shocking red velvet cake–to make it "special."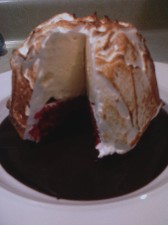 In the end I believe that what the heart (and stomach) truly desires is that which is familiar and comforting.  By all means tweak it a little and give it a whimsical name.  Just make sure it is satisfying.